A cold conservatory is a simple and cheap way to create an extra room. In summer it can be used as an additional room and in winter the plants can be overwintered in it. But what are the advantages and disadvantages of a cold conservatory and what makes it a must-have? We would like to explain all this in this report.
What is a cold conservatory?
Conservatories have been very popular for years, but they can also be quite costly. After all, this is an additional room that can be used in summer as well as in winter. While warm conservatories, also called residential conservatories, are artificially heated in winter, this is not the case with cold conservatories. Cold conservatories are only heated by the sun and are correspondingly cheaper because the months are not that expensive.
A cold conservatory has a filigree design and the cost factor is not particularly high. In addition, this additional room is also a highlight of the house, which scores with its simple construction. Low-maintenance aluminum frames and toughened safety glass also make your house something special if you want to create a place of well-being that is close to nature and affordable. The roof of this conservatory is usually made of safety glass and is therefore translucent. Unlike a home conservatory, the cold conservatory is thermally separated from the home and not connected to the heating system. Therefore, as the name suggests, it is always significantly cooler.
The temperature in the cold conservatory can be regulated using profiled or frameless all-glass elements and awnings. It should be remembered that the conservatory loses less energy when it is larger. In summer, however, awnings in the conservatory are essential so that you also have a conservatory and no sauna. However, you can take countermeasures if the side walls are not permanently installed, but if they can be opened. Because cold conservatories in particular are usually built on the basis of patio roofs. With side sliding walls you can always regulate the heat and air perfectly.
What is special about a cold conservatory?
A cold conservatory invites you to linger, as it is usually built on or next to the terrace. As a rule, however, the cold conservatory is built on the terrace as a "shelter" for the cooler evenings, so that you are always well protected even in rain and wind. In addition, the cold winter garden can be used as an additional room all year round. In summer on cooler or rainy and windy days and in winter on mild days when the sun heats up the conservatory. This type of conservatory is also ideal for overwintering plants when they cannot tolerate the cold.
Furthermore, the cold conservatory has a great advantage. It forms a kind of climatic buffer zone between the house and outside temperatures. He absorbs heat just as well as cold. This means that significantly less energy is needed in the summer to keep the interiors cool. The same also applies in winter. Less energy is required to heat the living space.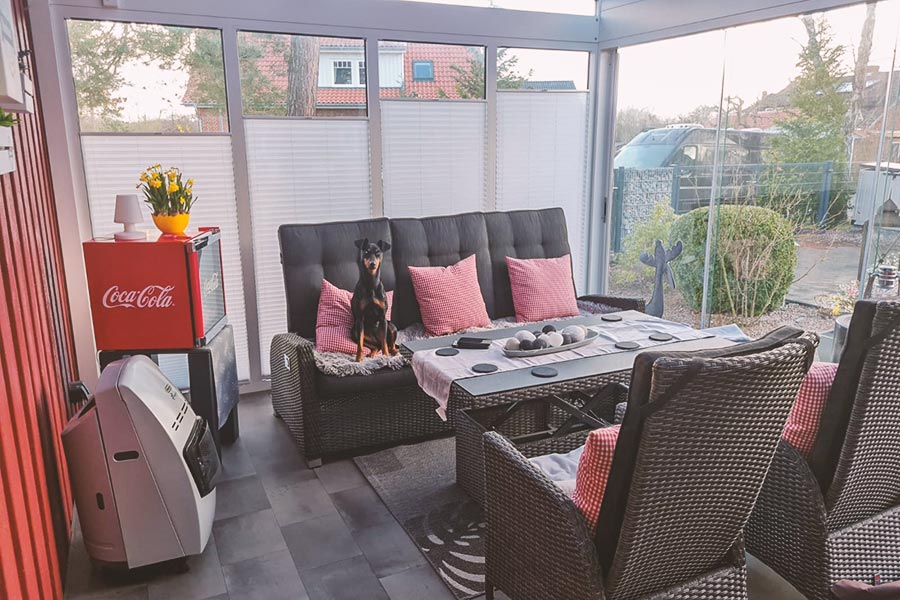 The pros and cons of a cold conservatory
Cold conservatories are very popular because they are easy on the wallet but still provide another room. In particular, owners of rooms without a basement love this type of conservatory, as the plants could hibernate here. But the cold conservatory has many other advantages that cannot be dismissed out of hand.
Cold conservatory is significantly cheaper
Construction and assembly are easy, since no foundation is required for the conservatory
With a kit, a hobby craftsman can easily build the cold conservatory himself
A cold conservatory is a climatic buffer zone between the house and the outside area, which saves on energy costs
No heating is required in the cold conservatory, as the sun can heat up the room quickly
The non-hardy plants have an excellent place here with lots of light and pleasant temperatures
Where there are advantages, there are of course also disadvantages. However, they are limited in a cold conservatory. But here, too, it must be said that it always depends on the priorities of the individual, whether it is an advantage or a disadvantage.
Cold conservatories are unsuitable as living space because they are not heated. Unless they heat with electric ovens, which then drives up energy costs.
In contrast to residential conservatories, cold conservatories are not as stable and also have a shorter lifespan
As everywhere where there are strong temperature fluctuations, condensation can form and thus mold. However, if you keep this in mind, you will be able to prevent the formation of mold without any problems.
How can the cold conservatory be used?
A cold conservatory is an additional room that can be used in both summer and winter. However, it is only possible to use the conservatory on sunny days in winter, as the sun can heat up the conservatory relatively well. If it is cloudy or very cold, the cold conservatory cannot be used or is only ideal for plants that overwinter in it. This offers a great view of the outside, even in winter, as this garden room sets blobs of color even on dreary days.
However, you can make excellent use of your cold conservatory for the rest of the year. If it's still too cool outside, you have a protected space by setting up a green feel-good place. In summer, however, this extension protects you on windy and rainy days and nothing stands in the way of a barbecue party.
What materials are used in a cold conservatory?
Such a conservatory should be robust on the one hand and easy to care for on the other. It should serve for overwintering the plants as well as a lounge from spring to autumn. Therefore, special attention should be paid to the materials. It also makes sense to use sliding side walls so that you always have optimal ventilation and can still sit protected.
Material for construction and side walls
The construction is usually made of aluminum or a combination of wood and aluminum. But you have to keep in mind that wood needs to be cared for and you have to paint it regularly.
The outer walls are usually made of single glazing with safety glass. Of course, you also have the option of choosing thicker glazing or even double-walled sheets. This depends entirely on your personal wishes. In order to avoid the formation of condensation and thus also prevent mold, you should rely on multiple glazing.
materials for the roof
Depending on the roof shape you choose, you have a variety of options here. Flat roofs are very popular. But pent or gable roofs are also popular for cold conservatories. It is particularly important that the roof also visually matches the adjoining house. Which roof shape you decide on in the end is of course a matter of taste. If you are unsure, ask your specialist dealer for advice.
Shading and ventilation of the cold conservatory
The ventilation as well as the shading of the cold conservatory are particularly important. You should not save here, so that you really find an additional place of well-being and no sauna in summer. In order to create a pleasant room climate, at least 20% of the glass surfaces should be openable. This is why sliding side walls are ideal for a good indoor climate.
You also have the option of attaching an external awning so that the sun's rays do not even hit the glass and heat up the conservatory. If you want to save money, you can of course also use internal awnings, but they are not as effective as external awnings.
However, sun protection not only serves to prevent the cold conservatory from overheating. Your plants will thank you for the shade on hot days. You should also keep in mind that heat build-up can also lead to glass breakage. Therefore, sun protection for the cold conservatory is essential.
The right equipment for the cold conservatory
The cold conservatory can be set up like a terrace. Cozy garden furniture or lounge furniture made of rattan are ideal here. Of course, you also have the option of using carpets. However, you should make sure that they are suitable for outdoor use. This is because the cold conservatory can get damp and carpets are the ideal place for mold to grow.
Do you need planning permission for a cold conservatory?
Regardless of whether it is a cold conservatory or a residential conservatory – you need a building permit for both. It is only not necessarily the case with lightweight cold conservatories. Of course you have to get information from the building authority. Before you start planning a conservatory, you should definitely obtain the necessary information and requirements from the authorities.
How much does a cold conservatory cost?
Depending on the equipment and provider of cold conservatories, prices start at around 10,000 euros. There are no upper limits. Single-glazed models with an aluminum construction are the cheapest. With multiple glazing or separate ventilation and shading systems, you have to dig much deeper into your pocket. If you want the very cheap version of the cold conservatory, you can of course choose a kit for self-assembly. Prices here start at around 8,000 euros.
In addition, there are maintenance costs for the conservatory. These are around 200 euros per year for cold conservatories. So that you have a comparison – residential conservatories cost from 50,000 euros and you also have to calculate at least 500 euros a year for the maintenance costs.
A cold conservatory is a great way to have an extra room for cooler days. In addition, plants can overwinter in it and despite the fact that the conservatory is not heated, it can become a special kind of feel-good place. With stylish rattan furniture, great decorative materials and lots of plants, you can create a very special place to relax. This is one of the reasons why cold conservatories are becoming more and more popular, since a break from the stressful everyday life can easily be taken here. With fragrant plants, the conservatory is also a perfect place for aromatherapy.