Smart Home: Even more comfort for your awning
Technology is constantly advancing and home automation is becoming more and more popular. Even if many are not yet sure whether the house should be automated, more and more people are opting for technical innovations. Once you have decided to buy an Alexa or a Google Assistant , you will quickly notice the advantages and home automation will take its course. Not only garage doors, electrical appliances or lamps can be controlled by voice, you can also control awnings by voice, mobile phone or tablet . We would like to explain to you here how this works.
This is how home automation works
If you want to control your house smartly , you don't have to be a technology expert. Basically, of course, you must first decide what you want to control. You have the option of automatically controlling light, music, household appliances, alarm systems, motion detectors or even garage doors and awnings. Even heaters can now be integrated into home automation. However, some prerequisites are necessary here.
Modern living with smart home products
Smart home is a great invention and is becoming more and more popular. You have several options for automatically controlling roller shutters, external venetian blinds and awnings. Depending on which variant you choose, you will need different components.
You have been able to control the awning with a radio remote control for several decades. In the meantime, however, you also have the option of controlling your awning using a mobile phone app or by voice. The most well-known home automation is Somfy. It offers a multitude of possibilities and with the entry-level product Somfy Connexoon you have an easy start into the Smart Home.
What exactly is Somfy Connexoon?
Somfy Connexoon io is a radio control center that makes it easier for you to get started with the smart home. You can conveniently take control of it using your cell phone or tablet and you don't even have to be at home to do so. Because you can also monitor and control your products while you're on the move.
In addition, the Somfy Connexoon io control is a cost-effective alternative compared to Somfy TaHoma. Retrofitting with io technology is also not a problem, so you can gradually expand and convert your home to a smart home.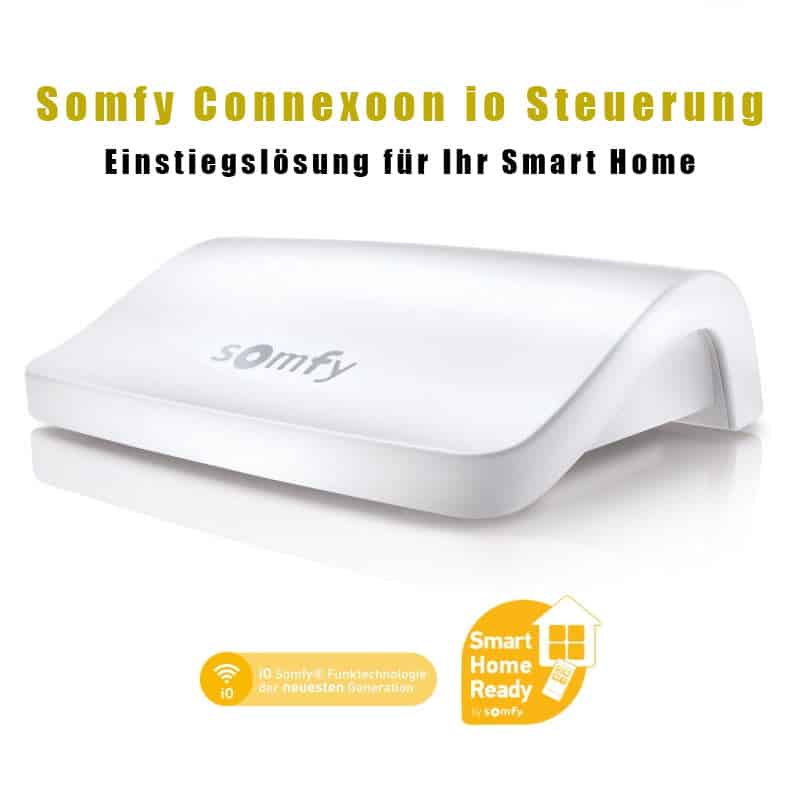 Function of Somfy Connexoon
With this innovative technology, you have three different apps at your disposal. On the one hand the access to the house, on the other hand the windows. The terrace can also be controlled automatically with Somfy.
If you buy the Connexxon Box, you will of course also be entitled to an app. In the application area, however, you have the option of adding additional apps to the personal account. There are 4 programming variants available to you in the user interface. For example, you can control different products at the same time by pressing a button. You can also choose to activate or deactivate individual products.
With the awning control, for example, you have the option of controlling the awning via the brightness value, the temperature or the time. However, for this control you need a sun sensor that responds to the temperature.
In the app you also have the option of querying the status of the individual products, so that you always know whether an awning is extended or retracted, whether the windows are closed or whether the front door is properly locked. This gives you full control over your home.
Somfy Connexoon benefits
Products can be controlled individually
Each individual product can be operated quickly and easily using a tablet or smartphone. It doesn't matter whether you are at home, in the office or on the go. You can open and close the awning from anywhere and query the current status of the awning.
Intelligent and innovative operation
But not only operation via app is possible. Somfy Connexoon also offers you a very intelligent operation. You are sitting in your favorite armchair after work and would like to read a book. However, the low sun dazzles you and is uncomfortable. Then you can set the awning to close automatically at a certain light level without even having to open the app.
Create flows
The apps are smart and also offer you the possibility to create sequences of events. For example, when you go to bed, you can switch off the floor lamp, close the roller shutters and lock the front door with one touch.
Get status report on the go
With the status report, you can quickly and easily see when you are out and about whether you have switched off the light or switched on the alarm system. If this is not the case, you can do this with one click and switch off the light and switch on the alarm system.
receive push notifications
Another advantage of the Somfy Connexoon control is the notification of unforeseen events. If you switch on the push function, you will immediately receive a message if an uninvited guest breaks into your house.
Which Smart Home is right for me?
Have you decided to control your home smartly? Then Somfy Connexoon is ideal because it is ideal for beginners. Maybe you already own an Alexa or a Google Assistant and are convinced of the benefits.
Of course, if you only want to control a heating system, you don't need complete home automation. A room thermostat and a remote control or an app are usually sufficient here. However, if you intend to control several devices with one app or even to connect groups of devices with each other, then you will not be able to avoid a Smart Home control center. You can then use this to control door sensors, lights, music systems or the smart TV. The advantage of this is that there is now a suitable smart home system for every home automation system.
Tips for newcomers: Start small and pick the areas that are a priority for you. It doesn't have to be perfect home automation right away. If you are still unsure, try using a language assistant like Google or Alexa first. These are available for little money and here you can test exactly whether the smart home is an option for you.
If you then decide on a smart home, consider how expandable it is before you buy it. Think about which processes you still want to automate so that they are also compatible.
How is home automation installed?
Installing home automation is relatively easy and you don't need to be a tech expert. Each manufacturer provides you with a step-by-step guide that is easy to understand and requires no knowledge.
In most cases, the first step is to download the smart home app. You can then use this to connect all devices that are to be automated. Among other things, you can add rooms to the app so that each room can be controlled separately. Multifunctional options are also available, for example, the same music should be played in every room.
What you still need, of course, is a compatible router for the smart home and the corresponding devices that you can link to the app. The app is of no use to you without a smart home-compatible device. Alternatively, it is possible to use WiFi sockets in order to be able to control an electrical device via an app.
How secure is home automation?
Technology definitely makes life easier for us and takes over many tasks for us. When we come back from jogging, we open the front door via finger scan and the smell of freshly brewed coffee wafts towards us in the hallway. The heating in the bathroom is already turned on and the awnings are already extended so that the rooms don't overheat. But all this also offers a target for attack. Therefore, there are a few things to consider when it comes to smart homes.
On the one hand, home automation must be set up securely. Experts have identified significant security deficiencies, especially with IP cameras. For example, the cameras on the Internet were openly accessible and showed privacy to everyone. In this way, burglars could quickly find out when the ideal time for the break-in was. Unfortunately, passwords and other security deficiencies often leave a lot to be desired.
Security in the smart home
The most important thing is the WiFi password. Passwords like 1-2-3-4 are not passwords, they are an invitation for hackers. Dates of birth or names are also a potential gateway for hackers. It is better to choose encrypted passwords and provide them with asterisks, commas or other special characters. Also, the password must be changed regularly to avoid attacks.
You should also pay attention to a firewall and encryption. In addition, regular updates are essential, and you should continue to check that the update is really from the manufacturer.
Access rights are also very important. Only give the fewest people, such as your partner, full access rights. It is better to restrict access rights to the most important areas. However, a time limit on access rights is also possible and can make sense.
If you want to save data, you should under no circumstances save the data in a cloud. Here it is better to save the data locally on the computer or on a USB stick. Because even a cloud harbors dangers that you should not underestimate.
If you pay attention to these little things, your home automation is safe. This may sound like a lot at first, but it hardly takes any time. Once set up, you only have to change the password from time to time. Then nothing stands in the way of home automation. Because let's be honest, even if the technology is vulnerable, you can still be robbed without technology. You can never protect yourself 100 percent, which is why there is no reason to do without the technology and home automation.