The top 10 for sun protection in the garden
Sun protection in the garden is of course at the top of the must-have list so that you can always call a nice shady spot your own in summer. Having breakfast on the terrace or balcony in the morning is something special if it weren't for the sun, which turns a leisurely breakfast into a "dazzling" experience and possibly leaves you with a sunburn.

For this reason, parasols and the like are becoming increasingly important and popular. But which shading system is the right one and what are the advantages and disadvantages? Here are the top 10 sun protection options for balconies and terraces.
10. Awning - simple but effective
Shade sails are a simple but effective way to create a shady spot. They are usually the cheapest alternative and come in a variety of designs. However, sun sails must be attached to the house wall so that they offer a certain stability. In addition, a sun sail is a flexible sun protection that can be used for the balcony, terrace or the play area in the garden. However, these shading systems also have some disadvantages. Sun sails are usually not water-repellent and only have a low level of UV protection. However, if you dig deep into your pocket, you can also get sun sails with a high level of UV protection, which are also water-repellent.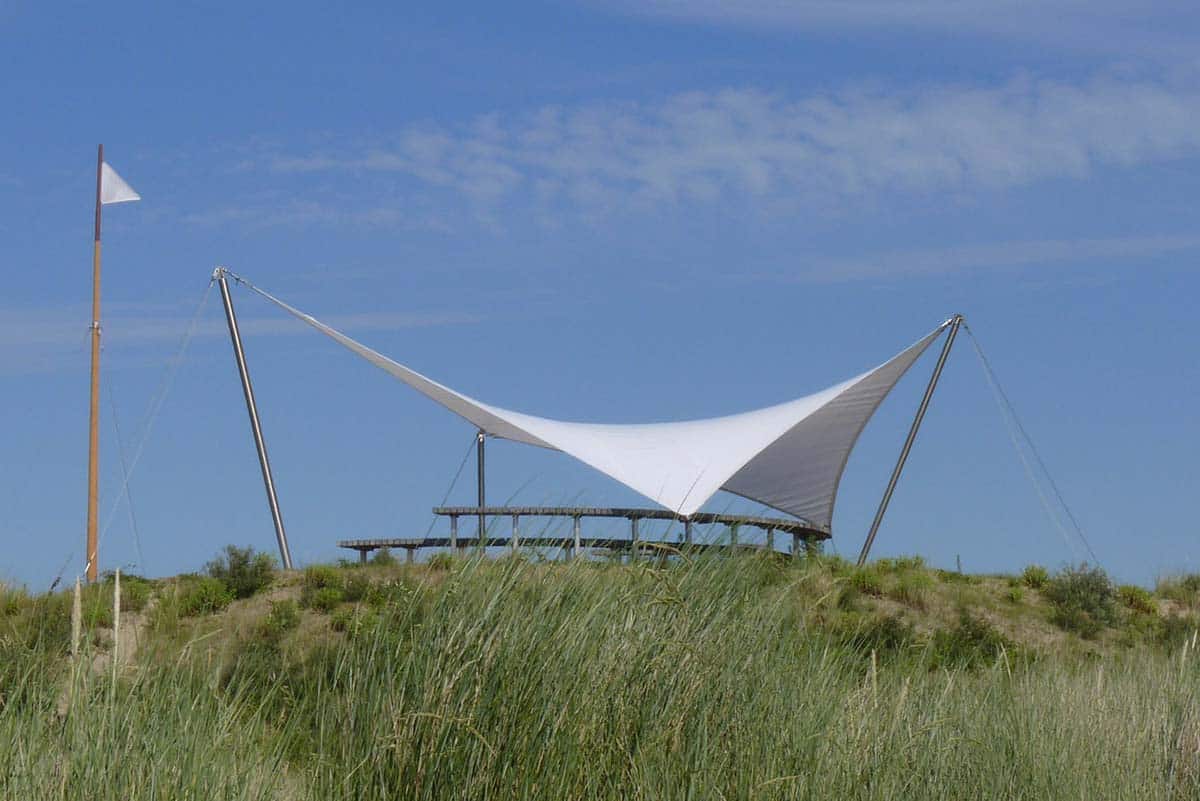 9. Parasols - popular for small areas
Parasols are particularly suitable for small areas. It must also be said here that there are great awnings even for small balconies, which can even be simply clamped between the floor and ceiling. Nevertheless, parasols on balconies and small terraces are a very popular way to provide shade. Like awnings, they are also a very cheap way to create a shady spot. You can also set highlights if a colorful parasol is chosen. However, umbrellas have the disadvantage that they tend not to be stable in windy conditions and only provide limited shade. If you want to protect the rooms behind it from the sun and from overheating, you should better use an awning, as it can be optimally adapted to the outside surface.
8. Pavilions - noble and elegant
There are many different types of pavilions, ranging from simple and relatively inexpensive to particularly elegant and expensive. For small gardens, gazebos are ideal for shading the children's area. Pavilions are also extremely popular for barbecue parties or social gatherings. They can also be fitted with side walls if the weather changes. So the guests sit dry and even the wind cannot harm the celebration. Gazebos are usually water resistant and offer good protection from UV rays. You even have a wide range of colors to choose from and can use a pavilion to create special highlights in the garden.
7. Free-standing awnings - Flexible shading for large outdoor areas
If you want to be particularly flexible, you have the perfect sun protection system with a free-standing awning. Freestanding awnings are particularly interesting if you have a large garden. The awning is so flexible because on the one hand it can be firmly anchored in the ground and on the other hand it can also be installed in any other place. It is also possible to mount the free-standing awning on the house wall and give it a permanent place.
As a rule, free-standing awnings have a slat roof, which also cannot be topped in terms of flexibility. It can be operated from both sides and thus provide shade or allow sun. The free-standing awning is an excellent way to turn the party into a special event, so that only your grilled food sizzles in the sun at the next barbecue party and not your guests.
6. Pergola awnings - elegant shading for high demands
Pergola awnings are also suitable for large gardens and are very elegant shading for high demands. The advantage of a pergola is that on the one hand it can be mounted on the wall of the house and on the other hand it can only be anchored in the ground. This means that you are also extremely flexible with the pergola awning when it comes to assembly. With pergola awnings you can also choose which roof you prefer. In addition to a slat awning, you can also choose an articulated arm awning, cassette awning or a fixed roof made of double web panels. Depending on what you want, everything is open to you with the pergola awning.
5. Terrace roofing – always on the safe side
If you have a patio roof and are still sitting in the sun, you are spoiled for choice. Because you have a particularly large selection for patio roofs in particular to create a shady spot on the patio. You should first consider whether the awning should be installed above or below the patio roof. We always recommend mounting above the patio roof, as this way the sun's rays do not hit the glass and are intercepted by the awning fabric. This means that the heat cannot build up too much under the roof and it is cooler.
When choosing colors and designs, you will also find a wide range, which can make the decision difficult. If you prefer it more subtle, plain-colored towels in beige, anthracite or gray are very stylish. If you want to set highlights, you should use colors like yellow, orange, red or blue to conjure up a maritime flair in the garden.
4. Conservatory shading – optimal use of the additional space
Anyone who has a conservatory must count themselves lucky. But here the shading is particularly important so that the plants do not become crusty in summer and shiver from the cold in winter. But to feel good in the conservatory all year round, it is important to use the right sun protection to avoid sweating. For this reason, the conservatory should be equipped with outdoor awnings so that the sun's rays cannot hit the glass in the first place.

With articulated arm awnings, cassette awnings or side and vertical awnings, you can practically shield the entire conservatory from the sun without it getting too dark inside. Here, too, the selection of colors and designs is particularly large. The different awnings for the roof and sides can be chosen in the same color or in different designs.
3. Vertical awnings - a must for windows without blinds
Vertical awnings are particularly popular for windows or conservatories to protect the rooms from overheating. They are also ideal for outdoors if you want to protect yourself from the prying eyes of your neighbors. Not everyone needs to see what delicacies you serve with the meal. Vertical awnings can also be combined with awnings for the conservatory or pergola.
2. Side awnings - the perfect windbreak
Those who live in regions where wind is the order of the day also have the opportunity here to enjoy their afternoon coffee comfortably on the terrace without flying saucers. With side awnings you have a perfect windbreak that also offers you protection on cooler days. In addition, side awnings are an excellent privacy screen, so you can protect your privacy. We all know those particularly nosy neighbors who prefer to sit at the coffee table to hear and see everything. You can protect yourself from such fellow human beings with a side awning and sit comfortably in your oasis of well-being.
A big advantage is that you can perfectly combine the side awnings with your existing awnings. Here, too, you have the option of adapting the awnings tone-on-tone or creating a colorful and cozy little corner to conjure up a good mood. All options are open to you.
1. Classic awnings – top-class all-rounders
Awnings are a top-class all-rounder and are clearly the most popular shading systems for outdoor use. While some time ago they were almost unaffordable, today there are awnings for every budget. Awnings have the great advantage that they can be optimally adapted to the outside area and can therefore be custom-made. This means that you can completely shade the terrace and also protect the rooms behind it from the sun and overheating. Furthermore, awnings have the advantage that they offer very high UV protection and the awning fabric is also water-repellent.
In addition, awnings can usually always be extended and side walls can also be used to protect against wind and lateral rain. Even on large terraces, awnings are very useful because they can be linked together so you always have shade. Another plus point is the large selection of sun protection systems. In addition to simple articulated arm awnings, you will find half-cassette awnings and full-cassette awnings that protect the fabric and technology from the weather when retracted. Drop-arm awnings are suitable for small outdoor areas to always keep a cool head.
As you can see, you have countless options for installing the perfect sun protection on your balcony or terrace. Depending on whether it is your own home or you are renting, there are alternatives to not installing the awning on the facade and still conjuring up a beautiful and shady spot outside.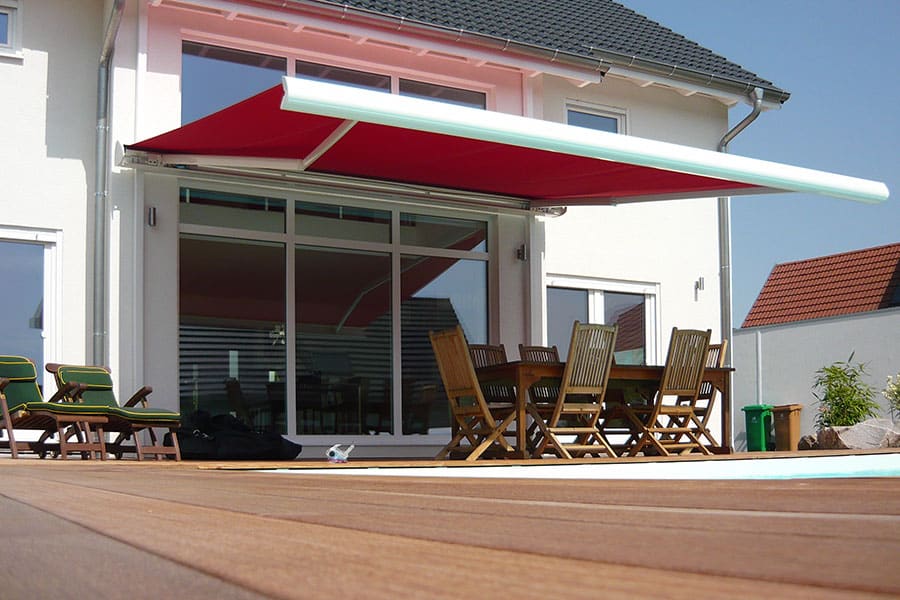 We would be happy to help you choose your shading system and help you to find the perfect awning or the best sun protection for you. We are at your side with all questions and will of course also take your wishes and ideas into account. Contact us today to stop frying in the sun.