Articulated arm awning for terrace and balcony
Görres articulated arm awning
Articulated arm awnings are among the most popular shade providers on patios and balconies. They are inexpensive and make the outdoor area a great shady place to relax.
The main advantage of folding arm awnings is that they are available in a variety of designs and can be used for small as well as large open spaces.
What are folding arm awnings?
Articulated arm awnings are the absolute classics when it comes to sun protection. The awning is inexpensive and can serve as an excellent source of shade on small and large balconies and terraces. Due to the filigree frame, it is hardly noticeable, but enhances the outdoor area. The only disadvantage of an open articulated arm awning is that it is not protected from the weather. While with cassette awnings the fabric and the technology slide into a box, the articulated arm awning is exposed. Nevertheless, it is extremely high quality and is just as good a shade provider as other awning models. In particular, our high-quality towels offer you perfect protection against UV rays, are dirt, stain and water-repellent and leave nothing to be desired. Furthermore, this awning model can be used very flexibly. For particularly large outdoor areas, two awnings can be coupled together. So you have optimal protection from the sun and can easily use your oasis of well-being even during hot periods. With a valance, which is available in two different versions, you even have glare protection when the sun is low in the sky. Valances are available as an option with every awning.
Our current awning offers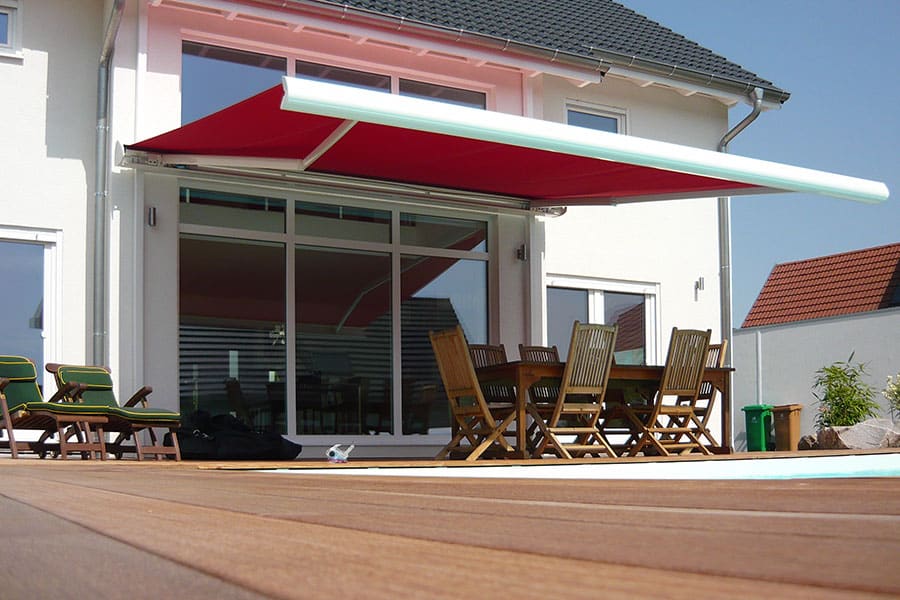 Cassette awnings
electric incl. fully equipped
2314
ab 1780 €
Incl. 19% VAT.
Made in Germany - direct from the factory
pergola awnings
terrace roof incl. integrated pergola awning
Up to 600cm width & 500cm projection

Can also be used as rain protection
Terrace roof laminated safety glass or multi-wall sheets
Bespoke patio roofs
Different variants to choose from

Made in Germany - direct from the factory
Function of the articulated arm awning
Articulated arm awnings have a simple but innovative technology. The awning fabric is rolled up onto a fabric shaft. The two stable aluminum articulated arms pull the fabric outwards and stretch it optimally. In the middle of the articulated arms is the joint that folds in and out. With this joint, not only the extension length is individually designed. The angle of inclination can also be adjusted with this.
These awning models are always mounted on the facade. They are therefore free-floating. On the one hand they are a large area shade provider and on the other hand the stability is particularly high. Furthermore, you have no support posts on the terrace, so that you are not restricted in your freedom of movement.
Awning technology and accessories
A folding arm awning has an electric motor as standard. In order to be able to operate the awning even in the event of a power failure, you will of course also receive a hand crank. So you are well equipped in case of an emergency.
Radio remote control for the articulated arm awning
If you value a high level of comfort, you can also get an optional radio remote control. With this, you can open and close the awning anywhere in the house at the touch of a button. In addition, the remote control has a timer so that the awning opens according to a time or a preset temperature when you are not at home.
Sensors for the articulated arm awning
However, sensors that protect your awning are then recommended. Rain or wind sensors in particular are important if you want to protect your folding arm awning. As soon as wind or rain comes up, the awning retracts without delay and automatically blocks manual operation. The preset time of the radio remote control is also blocked. So you can leave the house with peace of mind knowing that your sun protection is well protected.
The sun sensor, on the other hand, protects the rooms behind it from overheating. The awning extends when the sun shines, providing shade. This is an advantage, especially if you air-condition your rooms, as they require less energy for the optimum temperature.
Atmospheric LED lights for the folding arm awning
You will also receive LED lighting for the awning so that you can create a beautiful ambience. Especially on warm summer nights, this lighting can be atmospheric and pleasant and you no longer sit in the dark.
Valances for the articulated arm awning
Valances offer you privacy and glare protection. You have two different options to choose from. On the one hand you get fixed flounces, which usually have a length of 20 cm. These protect against glare when the sun is low in the sky and can therefore also provide shade in the afternoon hours.
On the other hand, you get Vario flounces. This option offers you a high degree of flexibility. They are extendable and can be up to 120 cm long. So you not only have glare protection from the low sun, but you can also use the valance as a privacy screen against nosy neighbors.
What sizes are available for articulated arm awnings?
Articulated arm awnings are available in many different sizes. The minimum width of such an awning is 250 cm. The maximum projection here is 200 cm. However, articulated arm awnings are also available up to a width of 1200 cm and a projection of 500 cm.
If you need other sizes, you can of course contact us at any time. We make your awning to measure so that you can tailor your outdoor area to your needs.
Articulated arm awning vs. cassette awning
If you are thinking about an awning as sun protection for the balcony and terrace, you will of course also have to look at the different models. We would therefore like to briefly explain the two most popular awning models to you.
While cassette awnings have boxes into which the awning fabric and the technology slide, folding arm awnings are completely exposed to the weather conditions. This is also reflected in the price. Awnings with articulated arms are significantly cheaper than cassette awnings.
With cassette awnings, a distinction is made between half-cassette and full-cassette awnings. Although semi-cassette awnings have a box into which the fabric slides, they are open at the bottom. This means that the technology and awning fabric are only partially protected.
With full-cassette awnings, the box closes completely. This ensures that the awning fabric and the technology are well protected from rain and snow.
Awnings with articulated arms are open. They do not have a cassette into which the cloth retracts. Cloth and technology are exposed to the weather. With these awning models, however, you have the option of attaching a small weather cover over the awning. This is mounted on the facade above the awning and protects the awning fabric and technology.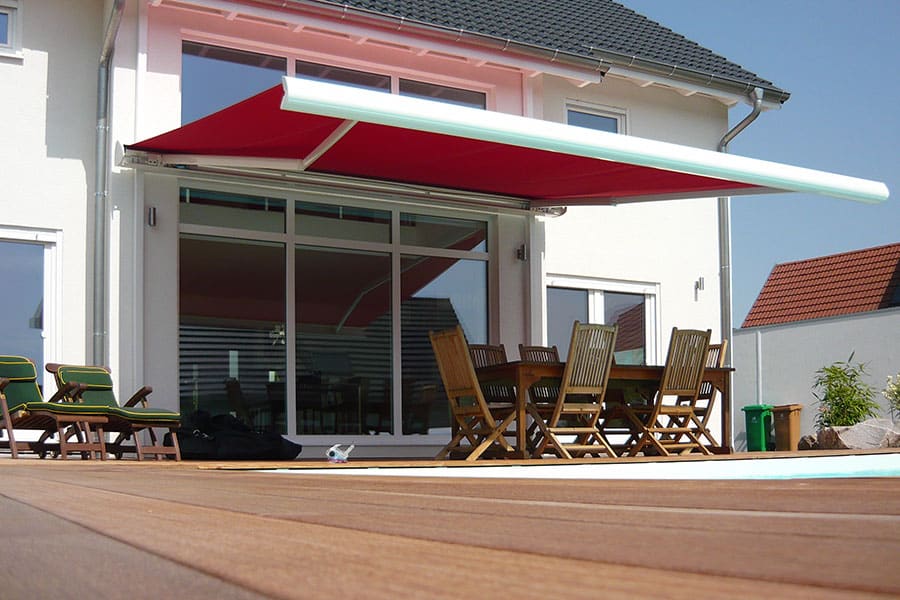 Awning fabric, colors and designs of folding arm awnings
You don't have a large selection of awning fabrics, but you do get the highest quality. The acrylic fabric has many advantages over other awning fabrics and is characterized by high weather resistance. The fabric also has these advantages:
Water repellent
dirt-repellent
Stain Resistant
self-cleaning
lightfast
UV protection up to 30+
When it comes to designs and colors, on the other hand, there is nothing that does not exist. You can choose from numerous colors, so that nothing is left to be desired. So you can adapt your awning to the garden or the facade or you can simply choose your favorite colour.
Awning fabrics in grey, anthracite or beige are particularly popular. These look particularly classy and elegant. However, these colors only work on large awnings. Strong colors such as blue, orange or yellow and red are suitable for smaller sun protection for the balcony. These colors set special highlights, have a friendly effect and automatically put you in a good mood.
You are also spoiled for choice when it comes to patterns. Discreet stripes or checks, block stripes or wavy lines – the possibilities are endless and we are convinced that you will find your perfect design for your folding arm awning.
What do you have to consider when renting a flat?
If you want to install an articulated arm awning in rented apartments, you must ask the landlord. You are not allowed to install folding arm awnings on the facade without permission. Furthermore, the landlord also has a say in the choice of color of the awning. In some residential complexes, only awnings that are the same color may be installed.
If your landlord does not agree and forbids you to mount an articulated arm awning, you still have alternatives. With a clamp awning you can avoid the consultation with the landlord. A clamp awning is simply clamped between the floor and ceiling and no installation on the facade is necessary. This means you can simply remove the awning when you move out and take it with you to the new apartment.
The most frequently asked questions about our folding arm awnings
In order to be able to shade your terrace or balcony optimally, you should calculate the correct projection of the awning. However, this is very simple. Basically, the projection must be 50 cm longer than the depth of the balcony or terrace. If your outdoor area is 3 meters deep, the folding arm awning should extend 3.50 meters.
If there is a niche or a projection, this must of course be added to the dimension.
A folding arm awning can be installed quickly and easily. Even for laypeople, assembly is not rocket science. However, so that we can supply you with the correct fastening material, we need information about your facade. You will only receive the optimal fastening material if you can name the building subsurface correctly. If you are unsure, we will be happy to advise you and help you to determine the subsoil. Of course, you will also receive an installation plan for your awning from us.
If you have any questions or need advice, you can contact us at any time by phone or email. We will get in touch with you as soon as possible and will be at your side with advice and action.
You are also welcome to request a free and non-binding offer for your articulated arm awning. We look forward to you!
Visit our sun protection exhibition on site!
Metallbau Görres GmbH
Commercial area Zingsheim South 39
53947 Nettersheim Zingsheim
Monday to Friday 08:00 – 16:00
Saturday by appointment
Feel free to arrange a personal appointment!