The terrace is the best and most pleasant place in the house in the warm season. However, in order to protect themselves optimally from the sun, more and more homeowners rely on terrace awnings. The awnings not only offer protection from the sun, but can also provide a dry place outdoors in light rain showers. Terrace awnings come in many different colors and designs.

In addition, we adapt your sun protection perfectly for your outdoor area and of course also manufacture it to measure. So it doesn't matter how big or small your outdoor space is. We will find the perfect awning for your patio. In this article you will find out what differences there are in garden awnings and what you should pay attention to when buying them.
What are patio awnings?
As the name suggests, terrace awnings are shading systems for the terrace. You have numerous models to choose from, which we would like to briefly explain to you here. Basically, you can use practically any awning as a patio awning. However, you have to consider structural conditions, the size of your terrace and your individual wishes.
Our current patio awning offers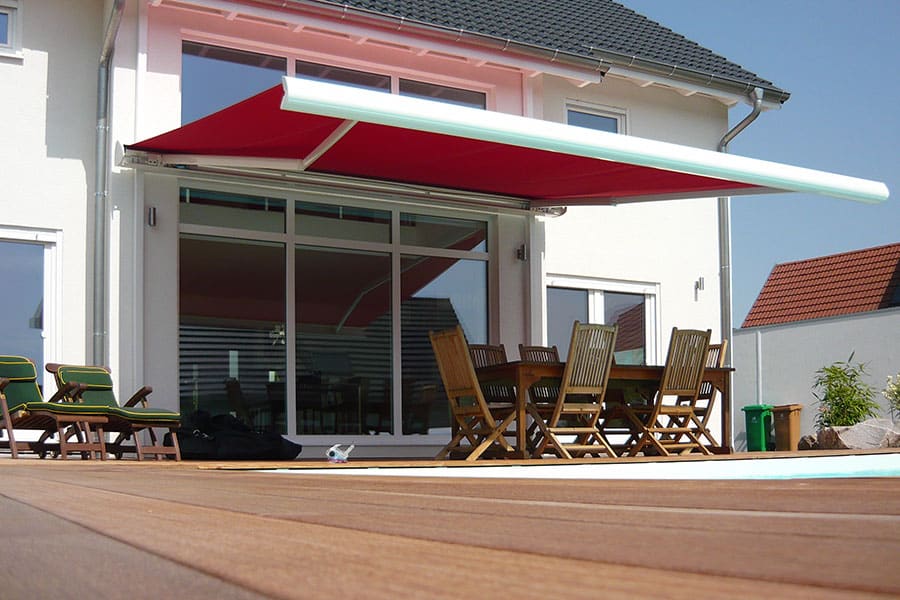 Cassette awnings
electric incl. fully equipped
2129
ab 1589 €
Incl. 19% VAT.
Made in Germany - direct from the factory
pergola awnings
terrace roof incl. integrated pergola awning
Up to 600cm width & 500cm projection

Can also be used as rain protection
Terrace roof laminated safety glass or multi-wall sheets
Bespoke patio roofs
Different variants to choose from

Made in Germany - direct from the factory
Articulated arm awnings are the most popular outdoor awnings. They are relatively cheap to buy and have the advantage that you can also assemble them quickly and easily. They are available in many sizes and can also be made to measure. The only disadvantage of the folding arm awning is that both the technology and the awning fabric are exposed to the weather. But if you only have a small budget available, this outdoor shading is very good for you.
Articulated arm awnings are equipped with an electric motor as standard, so that you have a certain level of comfort despite the rather simple construction. Of course, if you have to save money, you also have the option of getting an awning with a crank. For an extra charge, you also have the option of receiving a radio remote control so that you can retract and extend the awning at the touch of a button.
How much does a folding arm awning cost?
Articulated arm awnings are already available from 950 euros. Depending on the accessories and size you want, the awning can end up costing over 1,000 euros. You then have the highest level of comfort. Of course, there are no upper limits, as you can choose the color and design optionally.
Caution is advised with very cheap awnings. Usually these are not of particularly high quality. The awning fabric in particular is inferior and usually does not offer any UV protection. Our awning fabrics are all equipped with UV protection 30+, lightfast and dirt and water-repellent. Awnings from discounters rarely have an impregnation and therefore offer no protection against light rain.
The semi-cassette awning is a sun protection that has a box. When the awning retracts, the fabric is stowed away in the box. The box is open at the bottom and not completely closed, which is why the technology and fabric are not completely protected.

The advantage of the box is that you can "stow" your awning to a large extent and it is not exposed to rain or snow. The box itself is relatively small and does not interfere with the facade, which is why our customers like to use it.
How much does a semi-cassette awning cost?
Inexpensive semi-cassette awnings are available from around 500 euros. But here, too, quality always counts. Don't save at the wrong end and end up paying more. Görres awnings are of high quality and offer you the best protection against harmful UV radiation. The cloths are also of extremely high quality, which means that they require very little care. Of course, the prices are also very different here. Depending on what comfort you want, you should include it in your budget.
The full-cassette awning is constructed like the half-cassette awning, except that the box is closed. If you retract the patio awning, it is easily stowed away in the box and is therefore no longer exposed to the weather. Here, too, the box is hardly noticeable and adapts perfectly to the facade.
Half-cassette and full-cassette awnings are also equipped with an electric motor. Optionally, you can also get a radio remote control here, which has many other advantages. For more information, see the "Accessories for patio awnings" section.
How much does a full cassette awning cost?
Full cassette awnings are available from a price of around 950 euros. Here, too, there are no upper limits. If you would like to equip the patio awning with sensors and have maximum comfort, the awning can cost several thousand euros, depending on its size.
Terrace awning for pergolas or terrace roofs
If you have a pergola or a patio roof, you also have the option of using slat awnings. These are extremely flexible because they can be opened and closed on both sides. These models of terrace awnings are very elegant and evaluate the garden and the outdoor area in a special way. Furthermore, the shading option has very filigree guide rails that are hardly visible.
Pergola awnings or awnings for terrace roofs also have a motor as standard so that you do not have to use any force to open and close the awning.
How much does a slat awning cost?
You can find slat awnings for pergolas and terrace roofs from around 1300 euros. Depending on the size and equipment, the price can also vary significantly here. Especially if you have extra wishes or if you have a large terrace.
Side awnings for the terrace
Side awnings are also very popular when they have direct neighbors. These are often used to protect privacy. You keep the prying eyes of the neighbors away and you can enjoy your afternoon coffee completely unhindered.
Side awnings are not only a privacy screen, but also an excellent wind protection. They can also be used if your terrace is on the west side and the low sun is dazzling. They are easy to use and do not require any special attachment. They are usually anchored in the ground so that they can withstand strong gusts of wind.
How much do side awnings cost?
Side awnings are relatively cheap and are available from less than 400 euros. Of course, it also depends on the size and design of the awning. However, they are unavoidable if you have direct neighbors and they are still relatively curious. Even if you live in a very windy region, you should think about such protection.
The most frequently asked questions about our patio awnings
Visit our patio awning exhibition on site!
Metallbau Görres GmbH
Commercial area Zingsheim South 39
53947 Nettersheim Zingsheim
Monday to Friday 08:00 – 16:00
Saturday by appointment
Feel free to arrange a personal appointment!