Balcony awning - a shade dispenser for your balcony
What to expect in this article:
Not everyone has their own home with a terrace and garden. In Germany there are more and more people living in rented apartments. A balcony awning is essential so that an oasis of well-being can also be created on the balcony. It doesn't matter whether it's a small or large balcony. There is a suitable awning for every open space. In this article we would like to explain exactly what these are and where the differences lie.
A balcony, no matter how big it is, is perfect for setting up a wellness and well-being oasis outdoors. With the right plants and furniture, the balcony can become an excellent place to relax and take a break. You don't need a particularly high budget to set up this place of relaxation. In addition to herbs, which smell wonderful, Mediterranean plants and flowers can be an absolute highlight. If you live in a mild region, you can even put a palm tree on the balcony to conjure up a holiday feeling.
Parasols, sun sails and balcony awnings are suitable for providing shade for the plants. Parasols often have the problem that their feet are in the way. They take up a lot of space and usually cannot shade the entire balcony. In the case of sun sails, attachment can become a problem. In addition, high-quality sun sails – in contrast to balcony awnings – are really expensive. So why not something sensible that can withstand wind and rain?
Cassette awning 250cm x 200cm
Ideal as a balcony awning
electric incl. remote control
Cassette awning 300cm x 250cm
Want more failure?
electric incl. remote control
Cassette awning 350cm x 250cm
Here are no wishes left
electric incl. remote control
Which balcony awnings can I choose from?
Balcony awnings come in many different designs and models. While clamp and extension awnings are primarily used on particularly small balconies, you are spoiled for choice on large balconies. Here you can choose between articulated arm, half-cassette or full-cassette awnings and side awnings.
Clamp awnings for the balcony
Clamp awnings have a very big advantage in rented apartments. The landlord does not have to agree to the attachment, since the clamp awning does not have to be attached to the house wall. The clamp awning is clamped between the floor and ceiling with telescopic rods and is fixed. You would then have a balcony awning without drilling. The disadvantage of this balcony awning is that it is not so stable in the wind. Clamp awnings are available from a width of 85 cm and a projection from 75 cm. So you can have a perfect shade dispenser even on a very small balcony.
How much do clamp awnings cost?
Depending on the size and design, these balcony awnings are available from a price of less than 100 euros. However, you should pay particular attention to the quality here. Mainly because the awning is not fixed, but only clamped. To ensure safety and stability, you should use a high-quality clamp awning. Saving at the wrong end is not necessarily appropriate when buying an awning.
How much does a drop-arm awning cost?
These balcony awnings are relatively cheap and are available for less than 100 euros. However, before you buy a drop-arm awning, you should think carefully about your priorities. Not all awning fabrics are water-repellent or have sun protection. Again, you should not choose the cheapest model, but the highest quality.
Drop-arm awnings for outdoor use
Drop-arm awnings are also optimal balcony awnings for small open spaces. They are attached to the facade and are therefore more stable in the wind. Here, however, the landlord must be asked for permission. More information here!
But you will also find drop-arm awnings that are equipped with telescopic poles and can be easily clamped. The assembly is easy and takes place as with the clamp awnings. Both models have the advantage that you can simply dismantle them when you move out and take them with you to your new apartment.
Drop arm awnings are also available in small sizes. This balcony awning is available from a width of 85 cm with a drop of at least 75 cm. Here, too, there are different standard dimensions, as with the clamp awning. If you have a balcony that does not meet the standard dimensions, you can of course contact us at any time. We also manufacture your balcony awning to measure so that you have the optimum shade for your needs.
Cassette awnings for the balcony
Cassette awnings are also ideal balcony awnings. They offer special comfort and can even be equipped with an electric motor. Cassette awnings also have a box into which the fabric and the technology slide. This is not the case with clamp and drop-arm awnings. Here the awning fabric and technology are exposed to the weather.
However, with cassette awnings, a distinction is made between half and full cassettes. The semi-cassette awnings have a box that is not completely closed. The cassette is open at the bottom so that the awning fabric is only protected from above.
With full-cassette awnings, on the other hand, the cassette is completely closed and the awning fabric and technology are comprehensively protected. Of course, this model of balcony awnings is a bit more expensive. You must also ask your landlord for permission to install the cassette awnings.
These two balcony awning models are available from a width of 150 cm. The projection here is at least 120 cm. This means that cassette awnings can also be used on small balconies.
What do cassette awnings cost?
As already mentioned, half-cassette awnings are slightly cheaper than full-cassette awnings. Half-cassette awnings are already available for around 500 euros.
With full cassette awnings, you have to reckon with a price of at least 900 euros. However, they are significantly more durable, as the fabric and technology are perfectly protected from the weather.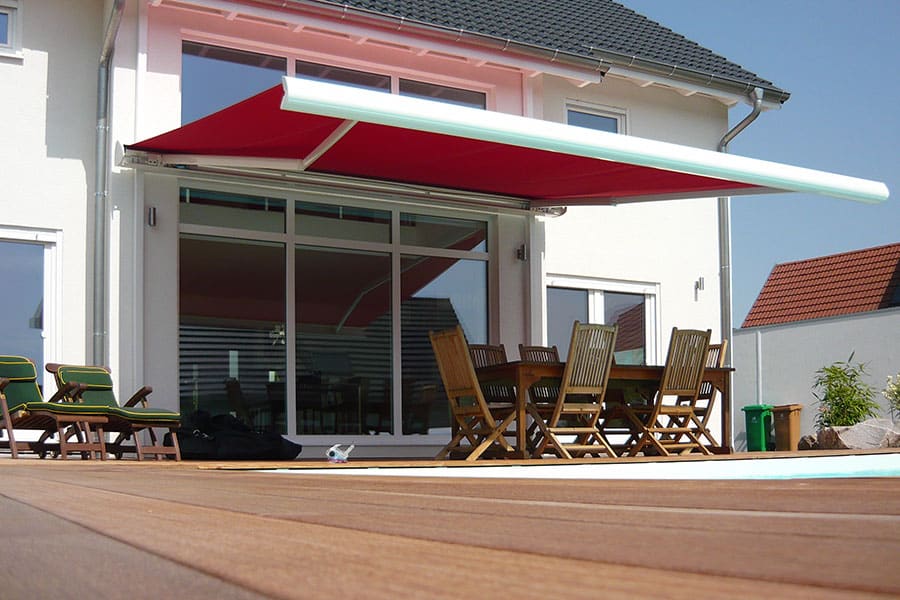 Side awnings against prying eyes
There are many nice neighbors. But if you live in an apartment building, you unfortunately also have neighbors who are very curious. Side awnings can help here. These balcony awnings are practical pull-out blinds that can be opened either from top to bottom or from bottom to top.
As the name suggests, side awnings are awnings for the sides of the balcony. So if you don't have a partition between you and your neighbors, this awning model can be used excellently as privacy and wind protection.
They are ideal balcony awnings to keep out the wind and the low sun. But they are also popular with nosy neighbors. Privacy is assured with the side awning!
If you value quality, specialist retailers should be your first port of call.
How much do side awnings cost?
Side awnings are already available on the Internet from less than 100 euros. In any case, it is important that they are stable and really protect against the wind. As a rule, these balcony awnings are mounted on the floor or ceiling to protect against wind, low sun and prying eyes.
Here, too, approval from the landlord is required.
Valances for the balcony awning
In particular, valances for the balcony awning are a very popular accessory. Here, too, a distinction is made between two different variants. The fixed valance, which is firmly attached to the awning, is around 20 cm long and serves as protection from the low-lying sun. On some balconies, however, this protection is too short. Vario valances that can be pulled out are suitable here. They can be extended to a length of 120 cm to avoid being dazzled.
Additional accessories for balcony awnings
Depending on the size of the balcony, many use the equipment with an electric motor. This eliminates cranking and the balcony awning can be extended simply at the touch of a button. However, a power connection is of course necessary here.
If you want to protect your rooms from overheating but travel a lot, you should rely on sensors. Wind, rain or sun sensors make the awning for the balcony a smart awning. As soon as the sun comes out, the awning extends, protecting the rooms behind from overheating. But if wind or rain picks up, the sensors ensure that the awning for the balcony retracts without delay to protect it from damage.
For working people, the sensors are an absolute must and a truly innovative technology that is unavoidable. Because in the evening you come into a cool and pleasantly tempered apartment and can really relax. You also have another advantage. If you use an air conditioner to keep the temperatures comfortable, you need to spend significantly less energy to maintain the temperature. This saves you even more money.
When does the landlord have to be asked for permission for a balcony awning?
If you want to buy an awning for the balcony, you have to think about which model you prefer. Clamp and folding arm awnings are not permanently mounted on the facade, in the floor or on the ceiling and the landlord usually does not have to be asked. However, there are exceptions.
If other tenants in the house already have sun protection and you find that all awnings are the same, then you must agree with the landlord which sun protection you may use. So that the picture is consistent, the landlord can have a say in the color and shape. Basically, it always makes sense to ask the landlord first, even if the balcony awnings are not permanently installed.
For cassette awnings and all other awnings that are fixed to the wall, ceiling or floor, you must obtain the landlord's permission. If he is against an awning, you still have the option of using a clamp or folding arm awning. As a rule, the landlord may not have any objection to this.
Do you have any questions about our balcony awnings or do you need advice? Then don't hesitate to contact us. We are at your side with advice and action and help you to find the perfect sun protection for your balcony. Custom-made balcony awnings are also no problem for us. Talk to us and we will support you in designing your balcony to relax and unwind.
Of course you can also request a free and non-binding offer at any time.
Visit our balcony awning exhibition on site!
Metallbau Görres GmbH
Commercial area Zingsheim South 39
53947 Nettersheim Zingsheim
Monday to Friday 08:00 – 16:00
Saturday by appointment
Feel free to arrange a personal appointment!